Program Overview
Ages 5-12! All Skill Levels Welcomed! FREE Trial Classes Available!
Skills Institute was started in 2001 as a soccer development program that focuses on 5-12 year-olds who love soccer and have a strong desire to improve their soccer skills. The program begins with an evaluation and assessment of each player's initial skill level so that we can tailor our curriculum to each player's needs, while still retaining a strong technical emphasis on soccer progression. Within a group framework, each player receives personalized lessons that move the player to their next level of expertise so that they become more valuable to their current and future teams.
This personalized, adaptive approach to teaching fundamental soccer skills, when combined with the Skills Institutes' low player-to-coach ratio, results in a fun, fast-paced learning environment that inspires players to achieve their personal goals as athletes, whether playing on club or school teams, or playing pick-up soccer with friends.
The Skills Institute curriculum recently conformed to the USSF's U.S. Soccer Curriculum. This age-appropriate instructional framework helps to guide overall player development in technical skill, tactical knowledge, physical ability, and social & psychological awareness. With this approach, we can provide age-appropriate clinics and classes that directly meet the needs of local clubs and youth soccer associations. Our classes and clinics are timely too, because we try to schedule them to accommodate the schedules and tryouts of most local youth soccer associations. That's why the Skills Institute is a great fit for a wide variety of players, including first-time players, Lil' Kickers graduates who are looking to join local youth soccer teams, and club players looking for a leg up in progressing to higher levels of competition.
Call 408.225.1843 or email info@gotoplex.com to register.
Winter Session Schedule 2023
November 27th – March 10th
Priority Registration Opens Oct 21st.
Registration Opens to the Public Oct 28th.
Call in to Register.
No class Dec 18th through Jan 1st
*Crossed out times are full for this session.
We currently offer 2 different Levels of Skills Institute:
Level 1
AGES 5/6, 7/8, 9/12
Focus will be on basic fundamentals of player development:
dribbling
passing
shooting
trapping
how to use these skills effectively in game
Level 1 will take players through weekly sessions of fundamental skill building and competitive drills/games to develop self-confidence in practice and game situations.
---
Level 2
AGES 7/8 & 9/12 (RECOMMENDATION ONLY)
Focus will be on the ontinual development of:
individual technique
field awareness
speed and agility
Level 2 will take players through a challenging 50-minute weekly session of driving competence of the fundamentals, defining of positions, and development of personal strengths and how to contribute those strengths to enhance team play.
Tasks
Objectives
Tactical

Attacking Principle
Possession
Combination Play
Defending Principles
Finishing in the Final 3rd

Create space to receive the ball and keep possession
Technical

Passing & Receiving
Running with the Ball
Turning
Shooting
Ball Control

Improve individual and collective basic soccer techniques
Physical

Acceleration
Coordination/Balance
Agility
Perception/Awareness
Reaction

Develop speed, coordination, and balance with and without the ball
Psychosocial

Motivation
Self-confidence
Cooperation
Concentration
Respect & Discipline

Interact positively and feel confident within the group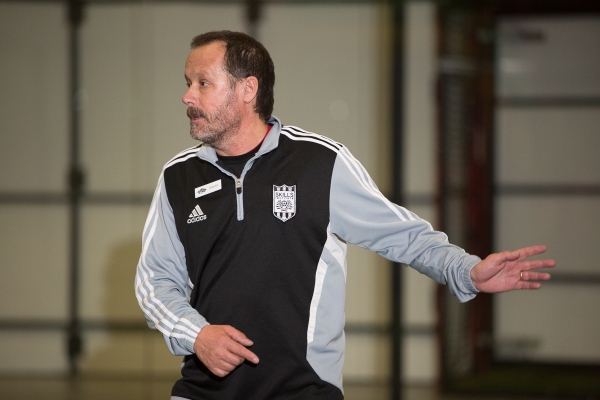 More Questions? Call us! 408.224.8774